Tribes, MGM, Lottery, And Others Fight To Operate CT Sports Betting
Feb 7, 2019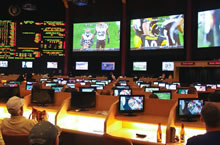 Senate Democrats in Connecticut introduced a new bill on Wednesday that may give a clearer picture as to how sports betting may be established in the state.
The newest bill would grant casinos and off-track betting sites as the only potential operators of the industry. However, it is only a placeholder bill and the fight for who gets exclusive rights to the activity still lingers on.
MGM, Native American owned casinos, the state lottery, and off-track betting sites are still making their pitch to state legislators and each one of them has a solid argument.
Where Each Potential Operator Stands
MGM – As a nationally recognized sports betting vendor, the company sees itself as a logical choice to bring their expertise to Connecticut. They already operate sportsbooks in casinos across Mississippi, New Jersey, and of course Nevada.
Even though they don't own a casino themselves in Connecticut, they could potentially partner with other gaming establishments. They may choose to operate mobile betting platforms if legislation allows that.
The CT lottery – Some states with legal sports betting have given regulatory authority to their lottery agencies, but none of those lotteries can accept sports bets themselves. The CT Lottery is looking to be the first to do so, even though they haven't been included on a proposed bill so far.
They would essentially offer sports bet slips wherever you buy lotto numbers or scratch-off tickets, eliminating the need for a middle man. Greg Smith, the Connecticut lottery CEO, was in full support of this idea.
"It's important to recognize that the Lottery's return per dollar will be significantly greater than any other operator."
The Native American Tribes – The Mohegan and Mashantucket Pequot tribes already have a compact with the state and argue that this expansion is covered in their compact. They have already been added on to previous bills and expected to negotiate possible terms with Connecticut Governor Ned Lamont.
They also make the case that they would be able to regulate the activity more tightly. They claim that by having sports wagering only occur at a few locations oversight will be easier.
Off-track Betting Sites – There are 16 locations currently spread throughout the state. Each of these locations offers a chance to bet on horses, greyhounds, and jai alai. Because each of these types of bets are based on events, they believe that they have the current infrastructure to handle traditional sports.
Richard McGuire, Sportech executive chairman, claims "We're regulated already, we're an operator, and we have the venues." They were also included on the latest bill introduced to the Senate.
How We Ended Up With These CT Sports Betting Options
It all started back in 2017 with Public Act 17-209, which legalized sports betting on the account that the Professional and Amateur Sports Protection Act (PASPA) would be repealed.
In May of 2018, PASPA was repealed, but the Public Act passed in the previous year didn't include full regulations for where betting on sports will be held. The legislature adjourned shortly before the repeal and were unable to pass a new bill into law that year.
Connecticut now has a newly elected governor and other state officials, so the direction of sports gambling has been tasked for them to find out.
Nearby sports betting states such as Rhode Island and New Jersey have already begun to see a healthy amount of tax revenue coming in from residents wagering on sports, which adds pressure on this current administration to decide on an operator.