Legal Sports Betting In Nevada
If you are lucky enough to live in Nevada, your options for legal sports betting are wide open. With both Las Vegas and Reno at an easy travel distance, you will never run out of options for legal Nevada sports betting. This includes both land-based and online options. Although land-based sportsbooks certainly have their advantages, online sportsbooks have a leg up on the competition when it comes to convenience.
Online sportsbooks offer all of the same great sports that land-based varieties offer, but you will never have to worry about finding a place to park or dealing with unruly and annoying crowds. In some ways, online sportsbooks are actually better than their land-based counterparts. For example, you won't find money-saving bonuses at land-based sportsbooks. Sports betting sites offer bonuses just for joining, and also as a reward for frequent deposits. Online books have other advantages as well, like mobile betting, which lets you bet from your mobile phone, and live in-game play, which allows you to bet on all aspects of a game while the odds update in real time.
Latest Sports Betting News
August 2, 2017
Major League baseball is setting wagering records in Las Vegas this summer. [...]
July 7, 2017
New Jersey Could Ruin Sports Betting For Everyone With Their Supreme Court Case [...]
Is Sports Betting Legal In Nevada?
Yes, Nevada has more legal opportunities than the rest of the USA. It is one of only two states where you can participate in state-sanctioned sports betting. The federal law known as PASPA (Professional and Amateur Sports Protection Act) prohibits sportsbooks from establishing themselves in all states except for Nevada and Delaware. These two states were given special exemption from PASPA and were allowed to write their own laws pertaining to sports wagering.
As it stands, anyone in America can use a land-based sportsbook in Nevada. Both Las Vegas and Reno are good cities to find quality brick and mortar sportsbooks. Additionally, there are many online books that anyone can use, and are the best options in our opinion. As long as you are a Nevada resident, you pretty much have carte blanche to use whatever sportsbook you desire.
Are There Any State Laws That Affect Sports Betting In Nevada?
According to Nevada state law, pari-mutuel sports betting must be done at a legitimate establishment (26B.040). Most of the language of this section deals specifically with how a pari-mutuel sportsbook should be run, where the money goes, what kinds of bets a sportsbook may accept, etc. Although Nevada allows legal sports betting, state law is very strict about licensing and who is allowed to run a sports book. A pari-mutuel is simply a pool where taxes are taken out and players split the winnings, with the house taking a cut as well.
Nevada law also states that no one can operate an independent book in the state (22.020). Therefore, even though sports betting is legal, Nevada law regulates it very well. For example, each book must adopt the same rules and strictures as the already esteemed establishments (22.150). These rules include the amounts to be paid on winning bets and the redemption period for winning tickets. Other sections of the law detail how deposits can be made and by what methods.
More: Read About Federal Laws
SportsBetting.ag
- Does SportsBetting Accept Players From My State?
Billions of dollars are wagered every year, but did you know that the big high-rise casinos aren't the only place for sports betting in Nevada? SportsBetting.ag is an amazing online sportsbook that accepts players from all fifty states and you can become a member for absolutely no charge. There are over twenty different categories of games to choose from and they range from football, to baseball, to basketball and even darts. Plus, they even included fun categories for entertainment, propositional betting, and futures. You don't have to be a serious odds shark to make serious money with this online sportsbook, and millions of players from around the world trust this site since they are treated fairly.
You don't have to miss out on the winning pick just because you're out of the house. You can take full advantage of SportsBetting.ag by connecting to their site using your mobile phone. You never have to stay connected to your sportsbook by an Ethernet cord again, because when you use any tablet or smart phone, you'll have complete access to the sportsbook and your account. Do a deposit or drop a dime down on any of your favorites. This bookie accepts your bets 24 hours a day so take advantage of the convenience and play with one of the best Nevada sports betting sites.
Deposit Methods
Payout Methods
Bonuses
Mobile Play
Live Betting

✔

Credit/Debit Card

✔

Western Union

✔

MoneyGram

✔

Money Order

✔

My Cash/Gift Cards

✔

BitCoin

✔

Person to Person

✔

Cashier Check

✔

Money Order

✔

Debit Card

✔

My Cash/Gift Card

✔

BitCoin

✔

Pre-Paid

✔

50% New Player Bonus

✔

Free Play Rewards

✔

Point Mover Rewards

✔

$25 Free Live Betting

✔

✔
BetOnline Sportsbook
- Will BetOnline Take Players From Nevada?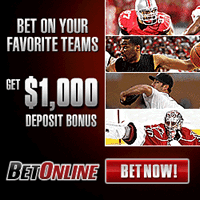 Even though there is plenty of sports betting in Nevada, you don't need to ride down to the local casino to place your wagers if you sign up with BetOnline. Betting sites were built for your convenience and allow you to play the odds without having to burn your gas or wait in line. There's a lot of action happening at the in-house betting venues, but Vegas accounts for less than 10% of all the money played worldwide. Additionally, if you're looking for a gateway to the international leagues and games, you can only find them on the web. This sportsbook has been accepting bets for over twenty years and have covered millions in winnings and with their total acceptance of any American player, they've become an incredible legal market for NFL and NBA betting.
BetOnline wants to keep you entertained with different wagering options. Since they have over twenty categories, there are endless betting possibilities when you add in all the ways to play. Have you seen the sporting news networks tell you about the spread or the over/under? You can find all those lines and more on every professional matchup. Moreover, as a member of an online sportsbook, you'll be able to put together some parlay bets. Parlay bets compound your winnings, so make a little extra by playing the odds at online markets.
Deposit Methods
Payout Methods
Bonuses
Mobile Play
Live Betting

✔

Credit/Debit Card

✔

Western Union

✔

MoneyGram

✔

Money Order

✔

Bank Wire Transfer

✔

BitCoin

✔

PrePaid/Gift Cards

✔

Person to Person

✔

Check

✔

Bank Wire Transfer

✔

BitCoin

✔

25% Welcome Bonus

✔

50% Reload Bonus

✔

$50 Free Mobile Play

✔

$25 Free Live Betting

✔

✔
Sports Betting FAQ's For The State Of Nevada
Is Online Sports Betting Safe In Nevada?
Yes, online sports betting is very safe in Nevada. The law very clearly permits it. There are online sportsbooks you can use that are based in Nevada, but there are some even better ones based outside of the country. We recommend these sites because they are safe, legal, and have great reputations. These sites are loved and trusted by millions of members. You have nothing to worry about by using these sites, because sports betting is legal in Nevada and these online sportsbooks are licensed and professional. If you are concerned that your personal information might be compromised, never fear. These safe sports betting sites use the most cutting-edge and up-to-the-minute cyber security software available.
What Is The Legal Betting Age In Nevada?
The legal betting age in Nevada is 21, like most states with sports betting this is the standard. Because betting is legal and pervasive, Nevada takes it very seriously. It is important that you abide by this age law. Otherwise, you could find yourself stuck with some hefty fines, forfeiture of funds, suspension of your account, and even jail time. Also, make sure that your online sportsbook account is password-protected so your kids don't accidentally gain access to it.
How Do I Find Nevada Sports Betting Sites?
This is a no-brainer. You'll find sports betting sites all over the place. The more pertinent question should be "how do I find a good Nevada sports betting site?" Thankfully, you don't have to worry, because we've already done all the work for you. We've done some research, tested out numerous sports betting sites, and come back with some terrific results. If you follow our advice and choose one of the superb Nevada online sportsbooks that we recommend, you will be down on your hands and knees thanking us. You're welcome.
| Rank | Legal Sports Betting Sites | USA? | Rated | Sign Up Bonus | Bonus Cap | Bet Today: |
| --- | --- | --- | --- | --- | --- | --- |
| 1 | | | | 50% up to 1k! | $500 | GET STARTED |
| 2 | | | | 50% Free Play | $500 | GET STARTED |
| 4 | | | | 100% Bonus | $500 | GET STARTED |
List Of Popular Sports Teams In Nevada
San Diego Chargers (NFL)
Oakland Raiders (NFL)
Nevada Wolfpack
UNLV Running Rebels
San Francisco 49ers (NFL)
San Francisco Giants (MLB)
Los Angeles Lakers (NBA)
Los Angeles Dodgers (MLB)
San Jose Sharks (NHL)
Arizona Cardinals (NFL)
Phoenix Suns (NBA)
Utah Jazz (NBA)
Final Thoughts On Legal Sports Betting In Nevada
Did I already mention that you are lucky if you live in Nevada? You've got access to all of the best sportsbooks that are available, and you have absolutely nothing to worry about from a legal standpoint. Nevada has some of the best land-based sportsbooks in the world. Going to a land-based sportsbook can be a lot of fun, because they are usually in big casinos, which offer complementary drinks, glitzy entertainment, and a fun and convivial atmosphere. However, if large crowds give you the heebie jeebies, you may actually prefer an online sportsbook. The nice thing about these sites sites is that you don't get any of the annoyances that you'll find at a land-based sportsbook.
Are Daily Fantasy Sports Legal In Nevada?
Yes it is, but it is limited to state-regulated locations right now. Daily fantasy sports is a new and booming industry, and there are a few websites that are the leaders in offering contests to Americans. These sites allow players to enter day or week long contests and collect prizes. The industry is netting billions already, and Nevada is not seeing much of that money. While there are a few places that offer DFS contests in the state, the Gaming Commission doesn't let the big nationwide sites accept residents as of now.
More: States With Daily Fantasy Sports
In 2015, the Nevada Gaming Control Board decided that DFS is equal to "gambling", meaning that out-of-state DFS sites would need to "admit" that what they offer is the same thing if they wanted to continue serving Nevada residents. Since the sites don't consider DFS to be "gambling", they are not going to admit that any time soon by obtaining a license. As of now, Nevada residents can sign up and take part in free contests at the leading DFS sites, or they can go to the local venues that offer games.
More: Legal Daily Fantasy Sites
Fanduel Daily Fantasy Sports
- Does Fanduel Accept Nevada Players?
Many Nevada sports fans might not have the need to participate in fantasy sports leagues since it's one of the only states with legal bookmaking. However, daily fantasy sports is a completely different beast from the traditional contests, and FanDuel is one of the leading sites offering it today. DFS lets enthusiasts assemble their dream teams for single or week-long games, and sites like FanDuel offer same day payouts. This eliminates the long wait times of traditional contests, where players have to sit through an entire season before seeing any rewards. DFS is the wave of the future, and FanDuel is at the crest of it.
It might surprise Nevada readers that the world's gambling capitol has restricted DFS sites from accepting residents in the state. In 2015, the gaming board ruled that DFS is considered "traditional gambling", which means that sites like FanDuel would need to get a state-issued gambling license in order to accept state residents again. This decision obviously has little to do with the board's views on DFS, and more on the fact that the state isn't making any money from it. Nevada residents can still sign up at FanDuel and participate in free contests, but, for now, the state is holding their ground on the subject.