Is BetOnline Sportsbook Legal In My State?
Since 1991, BetOnline has been operating in the world of online gaming. The company operates out of Panama City, Panama, but has catered to players from the United States for some time now. In the time since the company was first established, the operator has made significant improvements to their sportsbook and earned a reputation as one of the best online sportsbooks for USA players. From the earliest betting lines to a user-friendly sportsbook design, BetOnline has it all.
When it comes to deciding to use BetOnline sportsbook, there are certain notable features that bettors should take advantage of. There are excellent bonuses, expedient banking methods, a wide selection of sports, and so much more that the sportsbook offers. Our detailed BetOnline review will cover all the topics you want to know, and those hidden benefits that you may not be aware of.
BETONLINE PAYMENT OPTIONS
Is BetOnline Legal In My State?
BetOnline is legal in all fifty states. This is because it is an online, offshore sportsbook that is operated in another country. BetOnline provides US players with a legal sports betting opportunity because it does not fall under US Jurisdiction. There are no laws preventing the use of this sportsbook. Most states haven't even attempted to pass legislature that has to do with online sports betting.
This is because betting on sports online is still relatively new. Even if states did pass a law that said you weren't able to bet sports online, they wouldn't apply to BetOnline. This is because it is a company owned and operated by someone in another country. This means that US laws cannot prevent residents from accessing these sites. BetOnline is perfectly legal no matter what state you live in.
Is BetOnline Regulated In The United States?
BetOnline is actually located in a different country. BetOnline operates out of Panama City, Panama. Under the sports betting laws in that country, the sportsbook is regulated by a gaming commission. This gaming commission provides strict guidelines that all gambling business must follow. BetOnline is also licensed by this same gaming commission.
This sportsbook doesn't need to be regulated in the United States because it falls under the purview of the Panamanian government. Just because it isn't regulated within the country, it doesn't mean that you can't use this sportsbook. BetOnline is a perfectly safe and regulated sports betting site for residents of the United States.
Is BetOnline Safe For US Players?
BetOnline is completely safe. The gaming commission that regulates and licenses BetOnline requires that the latest SSL be in place for all operations. An SSL is a type of encryption technology that keeps your information safe from any potential spyware or malware. You can see the SSL in effect when you look at your taskbar. There should be a green lock in the left-hand corner.
BetOnline's betting software is also quality tested on a regular basis. This site is held to strict quality control guidelines which require top of the line security and safety features. You won't find an online sportsbook with a more secure interface. You should feel safe using BetOnline as a US player.
Banking Options At BetOnline
BetOnline has the most comprehensive banking options of any online sportsbook. While some sites may only have two or three ways to fund your account, BetOnline has over 10 methods for bettors to choose from. Though the fees, processing times, and limits will vary depending on the method, all of the sportsbooks cashier options are extremely reliable. You will also find that the sportsbook has a payout rewards program where bettors can get one payout, free of any processing fees, once per month. Below are the current banking options that are offered by the sportsbook.
Credit Cards (Visa, MC, AMEX)
Credit cards are the #1 deposit option for online sports bettors. You use your credit card for everything else, why not also at your online sportsbook? There may be a processing fee charged for credit card changes from time to time, and you may also be charged a foreign transaction fee from your bank. Even so, the fees are no more than 7% and the deposit is credited your account immediately.
Processing Time: Instant
Min: $50
Max: $1,000
Person to Person
Person to person methods include MoneyGram, Western Union, and Ria. This option has been a staple at BetOnline for years. The entire process no longer requires a physical trip to a merchant to obtain your funds and can be completed entirely online. This has made the entire process more expedient, making it a great option especially if you are depositing over $300.
Fees: Fees will be reimbursed if over $300
Processing Time: It can take up to 24 hours to process a payout request, and another 48 for the funds to reach your account.
Frequency of Withdrawal: No Restrictions on the frequency of withdrawals
Min: $50
Max: $600
Bitcoin
Bitcoin is the peer-to-peer online currency that has taken the sportsbook industry by storm. All you need to do is deposit money into a Bitcoin account, then transfer the funds into your sportsbook account. The method is extremely fast and secure, which is why millions of bettors have started to use the funding system.
Fees: None
Processing Time: Instant
Min: $20
Max: $5,000
MoneyGram
MoneyGram can be sent anywhere in the US, making it an ideal option for American players. There is always a retail location that you can visit to pick-up your winnings without hassle. The fees can be exorbitant at times, however this is still a commonly used withdrawal method.
Fees: $26- $51
Processing Time: Within 5 business days
Min: $50
Max: $400
Money Orders
Money orders are similar to check withdrawals, though you will find that MO maximums are much higher. These can also only be requested in $500 increments ( $500, $1000, etc.).
Fees: $80
Processing Time: Within 7 business days
Min: $500
Max: $9,000
Bitcoin
Bitcoin is an online payment system that allows you to easily move money between different sportsbooks and other retailers.
Fees: 2%
Processing Time: Within 48 hours
Min: $20
Max: $5,000
Bank Wire
Bank wires are a popular option for bettors who wish to withdrawal large sums of money or want the convenience of funds going directly to their bank account. The transfer can take up to 15 business days, but this relies heavily on how fast your bank accepts the transaction. There is a sliding fee that increases with the amount withdrawn. It starts at $45, but once you reach $5,000-$24,900 a flat fee of 1.5% is charged.
Fees: $45 - $375
Processing Time: Within 15 business days
Min: $500
Max: $24,900
Express Checks
As the name suggests, Express Checks are the fastest way to receive a paper check. Rather than wait months, you can have your funds mailed to your front door within 7 business days.
Fees: $50
Processing Time: Within 7 business days
Min: $500
Max: $2,500
Check by Courier
The second fastest check option, a check sent by courier will reach you within 15 business days. The longer wait time gets you a smaller processing fee of $35 versus the $50 for express.
Fees: $35
Processing Time: Within 15 business days
Min: $500
Max: $2,500
Check-by-Mail
If you are in absolutely no hurry to receive your winnings, then check by mail is a cheaper paper check option. The fee is only $25 but it will take up to one month to receive your funds.
Fees: $25
Processing Time: Within 30 business days
Min: $500
Max: $2,500
Book-to-Book Transfer
You can have your winnings transferred to a few different sportsbooks, including one of our other favorites, SportsBetting online sportsbook. There is a small processing fee, however book-to-book transfer has one of the highest limits of any withdrawal option.
Fees: 2.50%
Processing Time: Within 24 hours
Min: $500
Max: $24,900
What Sports Can I Bet On At BetOnline?
BetOnline has one of the largest selections of sports from around the world for bettors to wager on. When it comes to certain sports, you'll find the generalized name of the event (i.e. Soccer) and when you click on it, you'll find a subsection full of the different leagues that are covered (i.e. premier league, world cup, etc). BetOnline offers the earliest lines on all of these sports and doesn't exclude any players from betting on any sport. Everything is fair game at BetOnline.
Baseball
Basketball
Football
Hockey
Soccer
Tennis
Auto Racing
Boxing
Cricket
Darts
E-Sports
Futsal
Golf
Lacrosse
Martial Arts
Pool
Rugby
Snooker
Softball
Why Does BetOnline Need My SSN?
BetOnline needs your SSN to verify your identity. This helps to make sure that you are who you say you are when you first sign up. It is also a way to make sure that there isn't someone running around and opening a ton of false accounts with stolen information. Your SSN helps to protect your account.
What Are the Betting Limits at BetOnline?
BetOnline has several different betting limits for different sports. NFL football has the highest wager limits at BetOnline, with $25,000 that can be bet on the spread and $15,000 that can be bet on the moneyline and totals. Baseball comes next, with a $10,000 moneyline bet limit and $5,000 totals and runlines bet limit. Basketball has similar limits, with a $10,000 point spread limit and a $5,000 moneyline and total limit. The rest of the sports offered have limits that range anywhere from $500 to $5,000. To find a completely list of these limits, go to BetOnline's useful links tab.
BetOnline Wager Types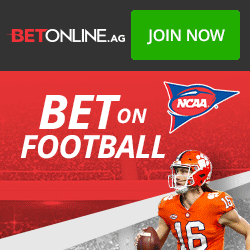 The wager type selection at BetOnline is just as vast as the selection of sports. There are various wagering options available at the sportsbook, ranging from the simplest straight bets to 12 team parlays. You can bet teasers and pleasers when you want to move points either in or against your favor, or try an if-bet when you want subsequent bets to be based on the outcome of the first. Totals (over/unders) are a very popular wager type at BetOnline. The oddsmaker will assign a total score for the game and bettors can wager on whether or not the game will go over or under that amount.
The section of BetOnline that gets the most action is the futures and props area. There you will find propositions on individual players and scenarios that may or may not happen during the game. Team and player props might include how many sacks the Baltimore Ravens will have in a game, or how many touchdowns Tom Brady will score during the game. Futures, as the name implies, are for events that will happen in a few weeks, months, or even a year. There are always unlimited possibilities when it comes to betting on props and futures.
Bonuses And Promotions
The bonus section at BetOnline is one of the best parts of the entire sportsbook. At other sites, you may only get one or two promos per season and even then they only offer a few hundred dollars. BetOnline always has several bonuses in rotation, giving every type of bettor an opportunity to earn extra cash. With the betting lines being posted during pre, regular, and postseasons, these rewards can really add up. We have some of the current promos listed below, but because the bonus codes change frequently we suggest visiting the "Promotions" tab of the BetOnline site every so often.
25% Lifetime Bonus Guarantee
Once you become a member at BetOnline, you can start taking advantage of their Lifetime Bonus Guarantee. For the life of your membership, you can get up to $1000 in free plays on deposits that are $50 or more. Just use code LIFEBONUS to redeem the offer. Keep in mind that there is a six-time rollover requirement and no withdrawals can be made for at least 30 days after you use the bonus code.
Live Betting Free Play
Every sports bettor should try live sports betting at least once. The Live Betting Free Play is good for up to $25. Just place a bet of $25 and if it is not a winning bet, you can shoot an email to freeplay@betonline.ag to receive a credit. You can bet more or less than $25, but the sportsbook will only reimburse up to this amount. Within 24 hours you must email your account number and ticket number of the bet to the sportsbook to request the refund.
Mobile Betting Free Play
This free-play takes the risk out of placing your first mobile bet with BetOnline. Make a $50 bet and should it lose, the sportsbook will reimburse you with a $50 credit. Just send an email to freeplay@betonline.ag with "$50 Mobile Free Play" in the subject line. Should your bet win, then you can continue wagering and making a profit. There is a six-time rollover requirement that must be met should you receive the $50 credit.
Refer-a-Friend Bonus
If you have friends (or followers) that love to bet on sports as much as you do, then this is a great bonus to consider. The sportsbook will give you a custom referral code that can be shared on Facebook, Twitter, and other social media platforms, or, emailed directly to friends. When a friend makes a deposit of $50 or more, you will receive a $100 free-play bonus. The Refer-a-Friend bonus can be used an unlimited number of times, there is an 8x rollover requirement that must be met before withdrawal. This promo is also only available to bettors that reside in the US, Canada, and Australia.
What Are the Betting Limits at BetOnline?
BetOnline has several different betting limits for different sports. NFL football has the highest wager limits at BetOnline, with $25,000 that can be bet on the spread and $15,000 that can be bet on the moneyline and totals. Baseball comes next, with a $10,000 moneyline bet limit and $5,000 totals and runlines bet limit. Basketball has similar limits, with a $10,000 point spread limit and a $5,000 moneyline and total limit. The rest of the sports offered have limits that range anywhere from $500 to $5,000. To find a completely list of these limits, go to BetOnline's useful links tab.
Extra Features At BetOnline
Mobile Betting
Mobile betting is the feature that every active sports bettor needs. Who wants to be confined to betting on your laptop or desktop computer? With mobile betting, you can take your sportsbook anywhere that has a Wi-Fi connection. Bet with your iPad, or place a wager from your Samsung Galaxy. With BetOnline, you can bet on sports from any iOS, Android, or Windows handheld device. The best part is that no additional software download is required, just visit BetOnline.ag while using your mobile device. You will find that the mobile bettingplatform is just as thorough as the desktop version and that the functionality is up to standard.
Live Betting
Live betting for states with sports betting has become increasingly popular in the last few years and BetOnline has always provided the most up-to-date features. Live betting is exciting because you are able to place wagers while the game is commencing. You can get an idea of how the game is progressing before making a bet, which always gives bettors an extra edge. You can bet during commercial breaks with in-play betting, or bet halftime and quarter lines with the in-game options that are available within the sportsbook. You will never get bored with the different live betting lines that are on all the major sports leagues, such as NFL betting on how many touchdowns will be scored, or the over/under on pitches thrown in a half inning during an MLB game. You will be notified of current and upcoming games, and the odds will automatically refresh on your screen. Make sure to have a strong internet connection to avoid any lags with updates.
Customer Service
BetOnline's commitment to excellent customer service is evident in the variety of contact methods that are available. There are four different ways that players can reach a representative should they need assistance. The most popular method is via live chat, where you enter your name and inquiry into the live chat system and then the next available representative will be able to assist you. You can type to the rep while continuing in the sportsbook or browsing the web. You can also contact BetOnline by dialing their toll-free telephone number, 1-888-426-3661. We have never been on hold for more than a minute after selecting one of the new account or sports wagering help lines. Sending an email to cs@BetOnline.ag is another option while you are on the go and an instantaneous response is not required. Social media is not the first customer service option that we would choose, but it is a great way to stay up to date on the latest promotions and happenings at BetOnline. You can always tweet the sportsbook or leave them a direct message on Facebook.