Sports Betting Kiosks Are Gaining Popularity
April 5, 2019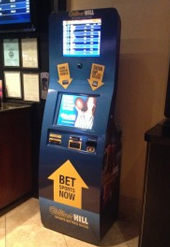 New Jersey sportsbooks are adding more sports betting kiosks.
More convenient for customers, especially during March Madness.
Other states are looking to add more sports betting kiosks as well.
RUTHERFORD, N.J. – More sports betting kiosks have been added to New Jersey sportsbooks for the NCAA tournament and the MLB opening season.
With March Madness and the MLB opening season happening at the same time, New Jersey sportsbooks are busier than ever. The sportsbooks in the state have begun adding more sports betting kiosks to relieve some of the stress during this busy time.
Prepping Ahead Of Time
The Meadowlands Racetrack had anticipated ahead of time that they were going to need more kiosks to help with the busy season. The sportsbook added 14 new IGT PlayDigital sports betting kiosks before the NCAA tournament began, bringing the number up to 40. The Meadowlands sportsbook is run by FanDuel and the new kiosks have a very similar interface to their sports betting app.
Making the interfaces similar has made sports betting more convenient for Meadowlands customers. The kiosks help eliminate the long lines at the sports betting window and it gives the customers something they are used to. Kiosks also allow sports bettors to take their time without having to worry about who is behind them.
Kiosks Are Appearing All Over The Country
New Jersey isn't the only state that sees the benefit of sports betting kiosks. IGT has also provided sportsbooks in West Virginia and Pennsylvania sportsbooks. They want to deliver kiosks that are intuitive to give customers an excellent sports betting experience.
Even states that have not yet legalized sports betting have been preparing to use kiosks for sports betting. Montana is currently on the path to legalizing and regulating sports betting. Their plan is to not introduce retail sportsbooks in casinos but to bring kiosks to retail locations. This means sports betting kiosks are going to appear in restaurants, bars, stores, and other locations in the state.
Kiosks are an excellent way for states without casinos to legalize sports betting. They can be placed nearly anywhere and they are easy to use. Putting sports betting kiosks increase the range of where people could go to place their bets rather than restricting it to a single casino.
As more states are planning to legalize sports betting, more sports betting kiosks are expecting to appear. This is the same for sports betting states like New Jersey and West Virginia who already have legalized sports betting. These legal states are showing how convenient having them is for sports bettors and more states are being influenced by that.