HB 271 Passes The Senate, Pennsylvania Now Even Closer To Legal Online Gambling
May 26, 2017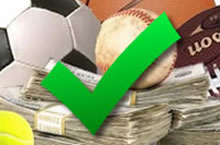 Pennsylvania State Representatives introduced a bill early on during the legislative session called HB 271. This bill called for an amendment to Title 4 of the Pennsylvania Consolidated Statutes and would provide for the legalization of online gambling. HB 271 seeks to expand the Pennsylvania Gaming Control Board's regulatory authority over online Daily Fantasy Sports, lottery games, casino games, and poker rooms.
Now, this is not the first time the House has passed an iGaming bill and sent it on to the Senate for further approval. In fact, it's actually the third. But I guess third time's the charm because the Senate has finally passed the bill through committees. Furthermore, on May 24th, it was reintroduced to the Senate floor for the requisite third consideration and voted on. The final tally stood at 38-12 in favor of the bill.
While it is a huge success to see a bill that would make online gambling legal in Pennsylvania get through the preliminary stages, HB 271 took a lot of red ink while it was in the Senate. A number of amendments were made to the legislation, including hiking up the tax on revenue and the cost of a license.
The bill, as it stands, would tax online casinos at the same rate as land-based casinos, 54%. Licenses will cost $5 million each for a web poker license and a slot/table game license. Officials said they proposed this tax hike because it would motivate businesses that are land-based to remain so.
Their reasoning is if the taxes are the same, there's no point in moving to an online format because there will be no profit to gain from such a move. Basically, state officials just don't want to lose the revenue they've become accustomed to from brick-and-mortar casinos.
Still, the heavy tax and astronomical licensing fees are not feasible. Proponents of the bill acknowledge that there needs to be a similar tax scale for online and land-based gambling venues to keep revenue the same from both styles of business. But it needs to be one that strikes a fair balance. "Internet gambling will not succeed at the rate and fee structure prescribed," Said Representative George Dunbar in an interview after the Senate vote. "But they wanted to get it through."
Dunbar, a sponsor of HB 271, knows that it was more important to get the bill passed and sent back to committees for a second round of amendments than it was to just kill it off. The representative and his colleagues are convinced that the Senate-approved version of the bill was more of a working draft than anything else.
Since the Senate made amendments to a House bill, it gets sent back to House committees for approval. HB 271's next stop is the House Rules Committee. From there, the House will vote on it, hopefully approve it, send it back to the Senate for further amendment and approval and then finally, when all the proper amendments have been made and voted on, send it on to the governor's office to be signed into law by the end of the year.
As of now, online gambling is only legally available in three states – Nevada, Delaware, and New Jersey. If the state Congress can get together and pass a bill that both consumers and producers can be happy with, Pennsylvania will be sitting on a nice chunk of change to help bolster the state economy.
Sports betting states like Pennsylvania land-based poker rooms have steadily raised the rate of revenue they rake in each year, bringing $58.6 million in 2016. Land-based casinos in the state have generated about $3 billion in revenue since opening in 2006, but have been pretty stagnant growth wise. The fact that casino growth has hit a plateau in the state is a huge contributing factor to the passage of this bill. It is estimated that legal betting sites would bring in nearly $300 million in revenue a year to the state.