New Mexico Is The Latest State To Have Legal Sports Betting
October 17, 2018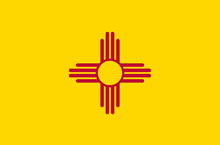 In a twist that almost nobody saw coming, New Mexico is the latest state to have legal sports betting in the wake of the Supreme Court's overturn of the Professional and Amateur Sports Protection Act (PASPA, 1992). The first sports wagers were offered and accepted on October 16 at the Santa Ana Star, a large Indian casino operated by the Pueblo of Santa Ana tribe (near Albuquerque).
While it's not a shock that legal sports wagering has come to the state (as most states are expected to implement such legislation in the near- to medium-term future), what's truly interesting – and perhaps groundbreaking – is the manner in which the pastime was actually formally established.
Instead of having the state go through all the congressional rigmarole of assembling, debating, rewriting, and voting on a sports betting bill of some kind, New Mexico lawmakers didn't do a single thing. Instead, the existing tribal compacts with the Pueblo of Santa Ana (and other tribes, by precedent) were deemed to be structured loosely enough that the language therein already allowed the pastime.
As such, much like Delaware, sports betting was effectively legal the moment the SCOTUS dismantled PASPA all the way back in May. Unlike Delaware, of course, sports betting is legal in New Mexico not because of any inclusive grandfathered status pre-PASPA, but because sports betting itself is not specifically mentioned as approved or restricted in either the NM state law or the tribal compacts that dictate state-tribal relations re gambling jurisdiction.
As a layman, it's difficult to understand the exact mechanism by which sports betting was deemed legal (or, more aptly, not explicitly illegal), but as stated above, it seems to have something to do with the language in both the New Mexico Statutes and the state's compacts with the area's recognized tribal bodies. To the former point, the NM Statutes do not explicitly bar sports betting or bookmaking. While section 30-19-15 of the NMS does bar all forms of gambling for profit, this is effectively overwritten by the New Mexico Gaming Control Act, which removes any reference to sports betting or wagering on the outcomes of athletic contests.
The second part of the equation comes in the language used in the New Mexico tribal compacts. These compacts, as is standard in most states that employ such, define the three types of Indian gaming: Class I, Class II, and Class III. These classes differ in the variety and extent of the gaming available under each designation. For example, Class I gaming – per the compacts – allows tribes to operate "social games solely for prizes of minimal value or traditional forms of Indian gaming engaged in by individuals as a part of, or in connection with, tribal ceremonies or celebrations." Class II gaming comprises games of chance like bingo and various state-authorized card games (as well as non-authorized games provided they are not explicitly forbidden by the state). Class II gaming does not include house-banked games like blackjack, baccarat, or slot machines/VLTs.
Here's the loophole: In the tribal compacts, after stating specifically what constitutes Class I and Class II gaming, the document elaborates thus on Class III gaming: Class III gaming "means all forms of gaming that are not Class I gaming or Class II gaming." Since sports betting is unambiguously a type of gambling or gaming, and since it is not included in the descriptions of Class I and Class II gaming, it is a de facto part of Class III gaming.
Whether or not this will work in other states that have similar tribal compacts – and whether or not this would hold up in court if challenged by the state of New Mexico – remains unknown. To date, however, the state has not indicated any plans to contest the Pueblo of Santa Ana's decision to go forward with sports betting.
One thing to bear in mind is that New Mexico – despite now having legal sports betting – does not have legal online sports betting. If you are in the state and wish to wager on sports legally with a local entity, you must do so in person at the Santa Ana Star casino. Presumably, other tribes will follow the Pueblo of Santa Ana's lead and open their own sportsbooks in the near future, but even then, brick-and-mortar betting is your only legal option if you are going to bet on sports locally in NM.
That said, though the state (and its tribal organizations) have no language that allows for Internet-based sports betting, you can still conveniently and legally wager online by using offshore sportsbooks that accept New Mexico resident members and other residents of sports betting states. Sites like Bovada, SportsBetting, BetOnline, and 5Dimes are all available in New Mexico, and for the time being, these represent the surest, easiest ways to wager on sports in the Land of Enchantment.