Is Your March Madness Bracket Legal In Your State?
Feb. 12, 2019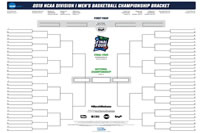 With March Madness coming up very soon, you should be aware about the legality of running office bracket pools.
The Legality Of Office Pools
The first and foremost thing to remember when it comes to office pools is that they are generally considered against the law in the United States. Office pools have been outlawed in 37 states.
But times are changing, and sports betting is becoming more accepted in the U.S. Last year, the Supreme Court overturned the Professional and Amateur Sports Protection Act (PASPA). PASPA was a federal law that prevented states from legalizing sports betting. Thanks to this law, for years, the only state you could bet on sports legally was Nevada. Now that this law is overturned, states are free to choose whether they want to legalize sports gambling.
There are a few states that has already legalize sports betting and nearly half of the states in the country have bills that would legalize wagering on sports. Although this is the case, that has very little impact on the legality of office pools in the country. But that doesn't mean you should be concerned about the laws against them.
But Everyone Fills Out A March Madness Bracket
The fact of the matter is that no one has been arrested for simply filling out a March Madness bracket. The only people who were arrested got customers involved in their bracket pool or if someone tips the police that a pool is being ran.
There are still 13 states that office pools are legal and getting arrested for participating is extremely unlikely. One of the ways you can follow these states examples for your office pool is to make sure that the person organizing the pool does not take a cut. If someone takes a cut, that means they are acting as a bookie and that could get them in trouble.
Unlikely Chance Of Getting Into Trouble
Running a bracket pool with just employees of an office is the safest way to run a pool during work. Typically speaking, employees will not go and tell the police that their office is running a bracket pool. That is because employees do not want to get arrested themselves for participating. Although there are laws that criminalize office bracket pools, they don't really deter offices from participating in them.
Just last year during March Madness, there were over $10 billion in bets being made. Only $300 million were made legally. Some of these do include office pools. Even though that was the case, there were no news about raids being conducted at offices to arrest employers or employees for running bracket pools.
Even though running office bracket pools during March Madness is against the law, that doesn't mean that you will get in trouble for it. Offices in sports betting states enjoy this time of year and run pools during the tournament. Almost none of these offices have had a bad run in with the law due to these pools because no one reports them, and the police have other things to worry about than these pools.