Delaware Becomes 14th State To Legalize Daily Fantasy Contests
August 1, 2017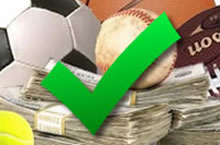 Delaware is now the 14th state to legalize and regulate daily fantasy sports after signing a new bill into law.
Signed by Governor John Carney on Wednesday, DE HB 249 amends Title 29 of the Delaware Code as it relates to fantasy sports contests. The bill states that the contests are not games of chance and that the outcome of a fantasy sports contest does not relate to the outcome of one particular sporting event. As such, fantasy sports are no longer considered a form of illegal gambling in Delaware.
In addition to amending the law, the bill states the following:
DFS operators must pay a $50,000 licensing fee.
Gross revenue will be taxed at 15.5% or the highest fantasy sports tax rate imposed in a different state – whichever is higher.
Players must be at least 18 years old to play.
No horse racing or collegiate sporting events are permitted.
Consumer protections such as responsible gaming protocols and a rule that players' funds must be separate from operational funds.
DraftKings & Other DFS Operators To Re-enter
The passage of the new bill is a complete reversal of the opinion that was given by DE Attorney General Matt Denn last year. Denn asserted that DFS were illegal according to the Delaware Code and then issued cease-and-desist letters to FanDuel, DraftKings, and YahooDFS.
Now that DE HB 249 has been signed and will go into effect in 30 days, DFS operators are already anticipating re-entering the market by the start of the NFL season. Tim Parilla, general counsel for DraftKings, released the following statement:
"Today's bill signing continues the progress DraftKings and our industry partners are making towards our ultimate goal of passing common sense fantasy sports legislation in all 50 states. Fantasy sports fans in Delaware will be able to play on DraftKings in late August, just in time to experience what we think will be the most exciting NFL season in DraftKings' history."
FanDuel has also announced that they will also be returning to Delaware, while there has been no official word from Yahoo at this time.
Though the two daily fantasy sports giants offer services in 39 sports betting states, it is difficult to predict how many other DFS will join them in re-entering Delaware. The fees to serve the DE market are substantially higher than those imposed by other states.
For example, the DFS legislation that currently awaits the signature of NJ Governor Chris Christie includes an "operational fee" of only 10.5%. Maine's DFS bill has not moved as far as the legislation of its Northeastern neighbors, but the proposed law would include a tax of 10% and an operational fee of $2,500 should at least $100,000 of their gross revenue come from Maine.
Taxes and licensing costs may deter smaller DFS operators from bringing their daily fantasy sports contests to DE residents.