Big Bettor Betting Big On Eagles To Win SB 52
Jan. 29, 2018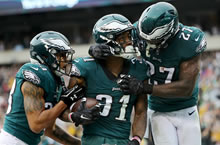 Apparently, one of the main reasons – at least in Las Vegas – that the Super Bowl spread has shrunk to New England -4.5 is that a huge multimillion-dollar wager has been placed with the MGM Mirage on Philly to win outright. According to local bookmakers, the big bettor betting big on the Eagles in Super Bowl LII is likely the same guy who took Vegas casinos for several million dollars during the past World Series, and he's been spreading around 6-figure bets on Philadelphia to win at various casinos along the strip.
In addition, several other Vegas books have reported wagers into the six and seven figures, all for the Eagles to either cover or win, and – though the limits are considerably lower – this probably mirrors the action at legal online sportsbooks like Bovada, BetOnline, SportsBetting, BetDSI, and others.
All that said, don't let these pros – and news of their wagers – deter you from betting on the Patriots if that's what you want to do in sports betting states. After all, professional gamblers aren't always right, and a few million won here often equates to a few million lost there. The Patriots Super Bowl spread is down, and though the Pats rarely cover in the big game (they are 2-5 against the spread in Brady-Belichick Super Bowls), they are incredibly difficult to beat on the biggest stage. Last week, when the spread was -5.5 (and -6 at some online betting shops), the Eagles and the points seemed like a very strong wager. With the shrinking spread, however, that seems less compelling, and a Pats (comparative) blowout win is a distinct possibility. In other words, it's pretty risky taking the Eagles straight up at +155 when you can take them plus points for just -105 at Bovada. But as the spread shrinks, taking the Eagles at all seems like less and less of a good deal.
Perhaps in placing big bets to drive the spread and Pats moneyline down, this unnamed bettor is actually trying to get more favorable odds on the New England. Don't be surprised to see some enormous NE bets placed as Super Bowl Sunday approaches. It might not only be Brady and Belichick playing Patriot Games this weekend.