Best High Roller Sportsbooks
Feb 1, 2018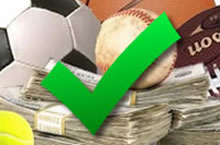 There are several first-class online betting shops out there. By now, you probably know all the top sites by name – Bovada, BetOnline, SportsBetting, BetDSI, 5Dimes, BookMaker, etc. However, just like each site offers different spreads, lines, and props on the Super Bowl, each site also has different deposit and withdrawal limits. As such, if you're a high roller, your choice of sportsbook might be more limited than the general betting public's. In other words, the best legal online sportsbooks aren't necessarily the best legal online sportsbooks for Super Bowl high rollers.
Take Bovada, for example. It's the best book in the business, and they're the industry trendsetter when it comes to the service side of things. That said, their deposit limits – even for the Super Bowl – are comparatively small when gauged against some of its peers in the space. If you use a credit or debit card, your maximum deposit at Bovada will be limited to $1500. And even if you use Bitcoin, that limit isn't greatly increased, maxing out at only $5000. Clearly, this isn't adequate for high rollers, particularly when it comes to betting on the biggest sporting event ever.
Even 5Dimes, once lauded for its higher deposit limits, doesn't do much better. Credit and debit deposits are capped at $500, though you do have the option of using a bank wire transfer, which should have no cap. That's a plus, and for high rollers at legal online sportsbooks, it's a good lesson: Generally speaking, you're going to be able to put the most cash possible into your betting account using this method.
Right now, the most reliable online sportsbooks for high rollers betting on Super Bowl 52 are BookMaker, BetOnline, and SportsBetting. BookMaker used to be the single most high-roller-friendly betting shop on the Internet, offering up to $2500 deposits on credit, $50,000 via Bitcoin, $10,000 through Neteller, and no max on bank wire transfers (USD, Euro, GBP, CDN).
That said, BetOnline and SportsBetting have both surpassed BookMaker. BetOnline and SportsBetting are very similar in their financial options, and high rollers can deposit their funds via a number of avenues. If you use a cryptocurrency like Bitcoin, Ethereum, or Litecoin, your deposit limit is $25,000. Money orders have a $9000 limit, credit cards have a $5000 limit, cashier's checks have a $15,000 limit, and both Neteller and bank wire services have no maximums at all. For options alone, these two sportsbooks are the high roller's best friend.
Unfortunately – and this is true for all Super Bowl sportsbooks, whether you're a whale or a minnow – withdrawals are a different story. Even the sportsbooks in sports betting states that have the highest deposit limits severely reduce the amount you can pull out in any single transaction. Even bank wire transfers – which typically have no pay-in ceiling – are usually capped at about $10,000. This rule excludes SportsBetting and BetOnline, however, as these books will let you pull out $24,900 via the bank wire method. Otherwise, for maximum withdrawals, high rollers should probably use Bitcoin, which carries a $25,000 limit at BookMaker and a $10,000 limit at both BetOnline and SportsBetting.