A Quick Rundown Of The Active Bills To Legalize Sports Betting In Key States Around The Country
Apr. 9, 2018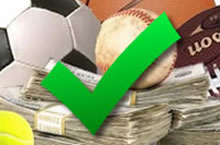 Nearly two dozen states around the country have already passed laws of their own to legalize and regulate sports betting in their jurisdictions.
Anticipation for a decision by the U.S. Supreme Court to strike down the Professional and Amateur Sports Protection Act of 1992 (PASPA), the federal law that limits sports betting to Nevada, Delaware, Montana and Oregon, is approaching a fever pitch. However, with this many bills floating around (and all the hot air from the politicians and the lobbyist from all the special interest groups that accompany the bills), it is understandably easy for even a dedicated sports betting nut job to lose track of it all. Our aim is to provide a quick rundown of just a few of the most prominent examples of the prospective sports betting regulatory bills in play around the country – these are the bills in key states with highly developed (or up and coming) casino industries to call their own. Don't get left out in the cold as the sports world waits on the SCOTUS justices to decide if there's some merit to New Jersey's claim that PASPA is unconstitutional.
Illinois hasn't decided on sports betting even after committee hearings
The Land of Lincoln's legislature conducted discussion on the sports betting question in the State Gaming Committee on Tuesday – the day that the U.S. Supreme Court could have released its decision on PASPA but did not, leaving us to wait until April 17 at the earliest or June at the latest. Three bills legalizing wagering on sports have been recorded, but so far the Committee has only discussed one – that being SB3432, sponsored by Sen. Napoleon Harris, III. This bill is close is close to a lock step copy of the so called "blueprint" for ideal sports betting legislation as formulated by the NBA and MLB and aggressively pursued by their combined lobbying arm, which is active in nearly a dozen states.
The committee hearing featured testimonies from several key players in the debate surrounding a decision to include the leagues' much desired "integrity fees" amidst a sea of other requests. Gaming industry expert Chris Grove testified to the effect that a regulated sports betting industry in the Prairie State could possibly generate well in excess of $300 million a year if taxed sensibly. Shockingly enough, that figure (which is far from shabby even for a state as populous as Illinois) only factors in taxes on the projected revenues of sportsbooks operating out of the state's casinos and horse racing tracks. If online sports betting was included in the legal provisions, taxable revenues could jump to just about $700 million, Grove said.
However, all that promise could just about be written off if Illinois lawmakers decide to acquiesce to the pro sports leagues' demand for tribute in the form of the now infamous integrity fees, Grover explained. He said that integrity fees, which amount to a payment from the sportsbook operators directly to the leagues themselves as a rent or a royalty of 1 percent of handle, actually equate to somewhere between 20 percent and 25 percent of gross sports betting revenues. That means Illinois sportsbook operator would probably have substantially higher overhead costs when fees and taxes are stacked on top, meaning they would perforce pass those costs along to players, meaning players would be disincentivized from using domestic legal sports betting options. The last thing Illinois lawmakers would want to do is drive their prospective players back into the arms of grey market overseased based online sportsbooks over which there is no federal or state level control (and no ability to tax them either).
Louisiana tables online gambling but advances sports betting legalization
The Pelican State is in a bit of a mess, financially speaking. Natural disasters, an aging population, rising healthcare and public works expenditures and a stagnant economy in many respects have combined to make the so called Sportsman's Paradise State a veritable Perdition when it comes to its money situation. Many lawmakers in Louisiana are accordingly looking to sports betting as an attractive way to pad out the state's coffers with the influx of some juicy new revenue streams in the form of wagers on sporting events, and legislators moved their SB226 along down the process for consideration before the full Senate.
SB226 is a fairly sweeping sports betting regulatory bill and it was put together in a hurry for the purpose of being passed in a hurry. Louisiana needs to get in the game quick if PASPA is repealed because several of its neighboring or nearby states from Kansas to Mississippi, which already passed sports wagering legalization bills of their own into law, will be up and running and ready to take action from sports bettors within a month's time easily. So eager, in fact, was Louisiana to pass sports betting legislation at the 2018 session that the bill's primary sponsor and author, Sen. Danny Martiny quipped "[Sports betting] isn't my life's passion…I'm just telling you [the state of Louisiana is broke, and nobody else has any ideas how we can fix it."
Nobody can say Martiny didn't try to get even more money to funnel into the Pelican State's coffers: he also offered a companion bill that would have legalized online gambling in all forms for legal aged players within the state lines. However, that was seen as a bridge too far for some of the more socially conservative members of the upper house of the legislature, particularly as fears of underage gambling that would be harder to police if internet gambling and mobile gambling in particular were allowed to go on. The issue was also raised that such a move could hurt the bottom line at Louisiana's brick and mortar and riverboat casinos, but not even factual arguments to the contrary – citing the great success enjoyed by states like New Jersey's synthesis of online and land based gambling – could sway the opposition.
Rhode Island adds sports betting revenues to next year's budget
Let's face it: no state legislature in sports betting states would waste the time of preparing, writing, presenting and voting on proposed legislation to regulate sports betting if they didn't think there was a reasonable chance for wagering on sporting events to be legal nationwide in the very near term. A decision in favor of New Jersey's case against PASPA appears imminent to all the states we've talked about and many others around the country, but some states take their confidence to the next level. We were hard pressed to find any that were as bold in their collective prediction that the hated but ultimately toothless federal law would go bye-bye quite like Rhode Island.
The smallest state in the nation appears to be so convinced that sports betting will become legal across the country that its lawmakers went ahead and put potential sports wagering revenues in the state budget plan for next year. What's more, the current administration expects to get $23.5 million before the end of 2018 if they can get a sports betting operation up and running at it Twin River casino by no later than Oct. 1. To that end, the state issues a request for proposals for companies interested in running sports betting at its sole casino – a plan that the state's Department of Revenue Director Mark Furcolo hopes bears fruit – and dollars – soon.
Furcolo simply said Rhode Island needs to get sports betting off the ground sooner rather than later if it wants to avoid losing business at its casino. That's because casinos in other New England states with much more highly developed gambling industries have already laid the groundwork to start taking bets on sports as soon as they get the word the PASPA has been stricken from the rolls by the SCOTUS justices. The Rhode Island State Lottery will oversee regulation of the state's sports betting market, offering "an exclusive contract to provide initial sports betting services" to whichever firm comes out as the winner in the end of the RFP process.