Sports Betting Bill In Arizonia Revitalized After Name Change
Feb. 27, 2019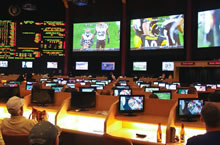 PHOENIX – As a sports betting bill in Arizona nearly dies before it could go anywhere, a name change breaths new life in the bill and the state is back on the path to legalize sports betting.
The New Name For The Bill
Senator Sonny Borelli is the head sponsor for the bill formally known as AZ SB 1158. The language from the original bill was moved into AZ SB 1163.
AZ SB 1163 is currently sitting in the Appropriations Committee in the Senate. Because the new bill is considered active, it will be receiving a hearing by the committee on Tuesday. This is means that Arizona will have its first hearing on a sports betting bill.
Stalling Nearly Ends Sports Betting Chances For The State
The reason why this name change was necessary to do is because AZ SB 1158 was stalled in the Commerce Committee twice and has not moved since January. This is because the tribes in the state wanted to work out the details of the bill. The bill is unique compared to other legislation in sports betting states around the country because it includes provisions that would bring tribal gaming to commercial establishments.
On top of sports wagering, the sports wagering measure will add tribal machines to more commercial areas, such as sports bars. Borelli believes that those who want to place a smaller bet at the range of $10 do not want to travel all the way to a casino to do so. He said that it is more likely that those small dollar bettors are more likely to go to a local bar to make those bets.
Why The New Bill Matters
Most of the casinos in Arizona are near the Phoenix area. That means residents who live in a more rural area need to travel a long distance to place their sports bets than those who live near the metro area. Borelli wants to give those who live outside of metro areas a chance to place their bets without having to travel all the way to Phoenix.
The current bill does not have provisions that would include mobile sports wagering. Although, Borelli says his goal is to make sports betting as accessible as possible for everyone in the state. That means that mobile sports wagering could be coming soon after land-based sports wagering is legalized.
Arizona was nearly out of luck when it came to legalizing sports wagering. Thanks to this new bill name change, legislation is active and sports betting has a chance to become legal in Arizona. The Appropriations Committee meets on Tuesday to discuss the bill.
| Rank | Legal Sports Betting Sites | USA? | Rated | Sign Up Bonus | Bonus Cap | Bet Today: |
| --- | --- | --- | --- | --- | --- | --- |
| 1 | | | | 50% Match Bonus | Up to $250 | GET STARTED |
| 2 | | | | 50% Match Bonus | Up to $1,000 | GET STARTED |
| 3 | | | | 50% Match Bonus | Up to $1,000 | GET STARTED |
| 4 | | | | 100% Bonus | $500 | GET STARTED |