Mohegan Sun Pocono And Mount Airy Casino Resort Look To Pursue Pennsylvania Sports Betting License
April 1, 2019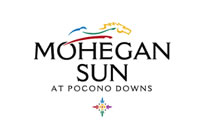 Currently, there are eight operational sportsbooks in Pennsylvania. Presque Isle Downs has been approved of sports betting but has not yet begun to accept bets.
Mohegan Sun Pocono and Mount Airy have already secured sports gambling partners to power their sportsbook.
Mount Airy Casino and the Mohegan Sun Pocono are located within 40 miles of each other.
WILKES-BARRE, Pa. – In an already competitive PA sports betting market, Mount Airy Casino Resort and Mohegan Sun Pocono seek to open their own land-based sportsbooks with applications sent to the Pennsylvania Gaming Control Board (PGCB) last week.
In preparation of the application, both casinos have announced partnerships with third-party sportsbook providers.
Mount Airy Casino Resort has previously partnered with 888 holdings but are hoping to extend the partnership to include sports wagering. They have also announced a partnership with The Starts Group, an online gambling company.
As for the Mohegan Sun Pocono, they have decided to partner with the Kindred Group to operate their Pennsylvania sportsbook. If granted approval by the PGCB, the Kindred group will also be able to provide a mobile sports wagering app in PA.
The PGCB has not announced a definite timeline for when a final decision on their approval will be, and an exact launch date has not yet been set for the two casinos.
What The Casinos Can Expect From PA Sports Betting
Pennsylvania has 12 casinos in total, nine of which have already been approved by the PGCB to offer sports betting and six of them are currently taking in sports bets.
Both of these casinos are expected to be approved as well, but they will have to fight for market share as soon as they open.
According to the PGCB's latest sports wagering revenue report, the six active sportsbooks combined for a total handle of a little more than $31.5 million but only kept about $2 million in revenue.
More importantly, they will be in direct competition with each other. Mount Airy Casino and the Mohegan Sun Pocono are located only 40 miles from each other and neither casino is guaranteed to offer online sports betting, potentially limiting them to land-based sportsbooks.
However, while both casinos have applied for sports betting licenses later than most, they are expected to be able to accept sports bets before the start of the 2019 NFL football season. Sportsbooks in sports betting states traditionally reach their greatest handles during the Fall because of football bets.